HOTEL MAGDA
HOTEL IN RICCIONE, AT 150 METERS FROM THE SEA
The Berardi Cristallini Family has been taking care of hospitality for almost 50 years and manages its hotels with great passion, with the final purpose of customers' satisfaction.
Hotel Magda is located in Riccione, in a green and quiet area just 200 meters from the sea and the spa, particularly suitable for relaxing family holidays.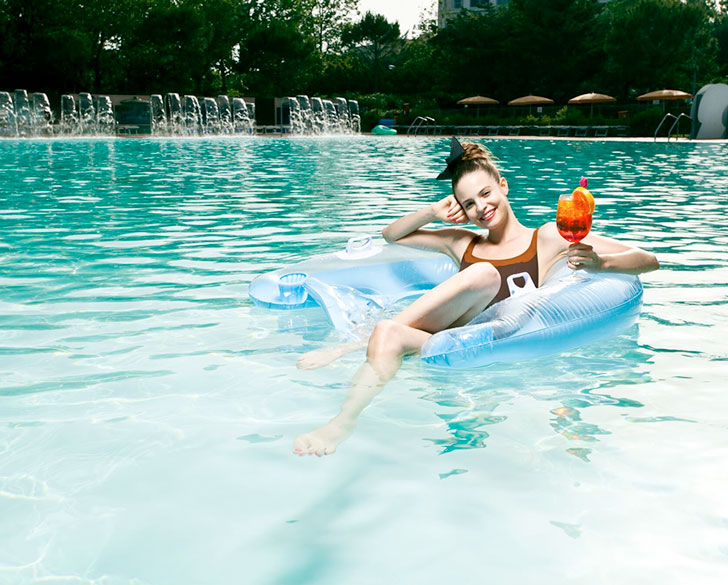 PERLE D'ACQUA PARK
PARK INCLUDED IN THE STAY
Outdoor pool of 800 m² enriched with thermal water at 30° C, located in a pine forest of three hectares just a few meters from the sea.
Seven waterfalls in rainbow colors with inebriating whirlpools.
HOTEL TERME RICCIONE
RELAXING MOMENTS
Located in a green area 2 steps from the sea, it offers therapies and treatments using cutting-edge medical technology.
"Courtesy and familiarity"
Hello everyone, I stayed in this Hotel more than once and my stay was wonderful.
The rooms are not huge but all renovated, with spacious bathroom and shower.
Breakfast is average and complies with the price requested by the hotel.
The affiliated baths are very nice and with the arrangement of the umbrellas not too close together.
In 15 min. of walk you are in center also with the children.
What about … try it.
Reviewed 6 September 2017
"Great hotel"
We stayed in this hotel in August and, considering the period of maximum crowding, I have to congratulate the management.
Very clean and well furnished hotel …. the staff is very nice and helpful starting from the owner Matteo up to the staff Eva and Daniela.
Kitchen in the media and perhaps too abundant …. really amazing homemade desserts. A small flaw ….. the degree of cooking of the pasta …. often a little overcooked.
Overall excellent structure to recommend.
Reviewed 14 August 2017
"Very recommended"
Has been years that I go with the family in tow.
Great place, great location, amazing staff!
Very good prices, great food and unique managers.
Recommended for everyone to go and try.
Reviewed 16 January 2018
"Excellent hotel, kind and always available"
A few minutes from the main streets of the center and from the beach, a family run hotel where you feel at home.
Staff always helpful and breakfast buffet always well assorted are certainly the two key points of this structure.
Reviewed 2 July 2017